Advantages of Using
Medical Licensing Service
You'll never have to collect your own credentials or fill out a lengthy medical license application again!
-Healthcare Licensing Services has assisted over 25,000 health care professionals with obtaining licensure in the last 10 years. Why spend your valuable free time completing application forms and collecting verification of your credentials when you can pay a small fee to have an experienced professional do it for you? In addition, the time saved by not completing the application process yourself, and having the opportunity to start your new job sooner, more than make up for the cost of using our service. Plus our service fee is tax deductible!
Read More About Our Advantages
What Our Clients Think
Healthcare Licensing Services is in the business of exceeding it's clients expectations. Each of our clients are sent a survey after their medical license has been issued. Here are just a few of the comments that we have received.
Very personal and prompt service. Immediate responses and absolutely went above and beyond expectation. Honestly all I had to do was provide school names and dates and all verification and correspondence was handled for me! Very satisfied and appreciative!
Martha Schuh, M.D.
Thanks to everyone at Healthcare Licensing Services for all your efforts on our behalf. We would have never been able to get our physician force licensed and credentialed in multiple states without you. Your experience and dedication and willingness to listen to the customers needs took you far past our most demanding expectations. We look forward to a long, productive and collegial relationship. Thank you again.
Colin Timothy McDonald, M.D.
Founder, CEO and Chief Medical Officer at
Brain Saving Technologies, Inc.
I appreciate not having to waste my time filling out the deluge of paperwork required by some states.
James Summers, MD
Licensed in: Louisiana, Mississippi, Florida, Georgia, Tennessee, South Carolina
Please do not hesitate to give my email or telephone number, I will speak with him or her. Your organization has been extremely diligent and professional at all times.
Lawton Tang, MD
Licensed in: Florida, New York
How Our Medical license Service Works
Simple, Secure, Online Form


The first step in the Medical License Application process is to complete either our online or paper form. Immediately after you submit either form, you will be assigned to a medical licensing specialist. This specialist will be your point of contact during the entire application process.

Sign Documents


Your Medical Licensing Specialist will prepare all of the required documentation for the Medical License Application process. Upon your request this can be done within 8 business hours. Once you receive your completed medical license application from your specialist, you will need to sign it, attach a check or money order in the amount of the Boards application fee, and then return it to your specialist via the FedEx envelope that will be provided.

Verify Your Credentials


Your licensing specialist will collect ALL of the credential verifications required to complete your medical license application. We will do everything necessary to ensure that your credential verifications are provided to the medical board as quickly as possible. Once the medical board has received all required credential verifications, your application will go to a file review, then your license will be issued
How We Differ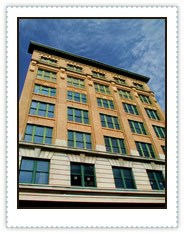 Healthcare Licensing services, Inc. is located in the heart of downtown Pensacola, FL in the Historic Blount Building.
Healthcare Licensing Services, Inc. is the largest medical license service in the United States. We currently license over 2400 physicians on an annual basis. We believe in providing the highest quality service at the lowest possible cost to you. This is why we charge one low, flat fee for our medical license service.
Beware of agencies that practice attorney-like billing for phone calls, faxes, emails, and even "billable time." All in addition to their service fees, which can double their advertised price.